Silk Saris, Supportive Community and Self-reflection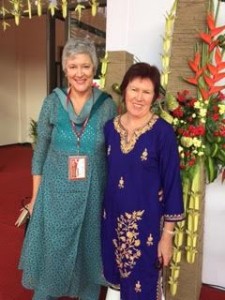 Coimbatore in western Tamil Nadu is perhaps one of the cleanest cities I have visited in India, and the opening of the Conference shed some light on this phenomenon-   the Chief Guest, Ms. Vanitha Mohan a Civic leader, and Eco-crusader, delivered an inspiring account and her personal experiences and insights around end of life. She has devoted most of her adult life to greening and cleaning the city of Coimbatore.  She has achieved this by focusing on restoring tanks that supply water, installing rainwater harvesting systems, and planting trees across the city.
Coimbatore is also the textile centre of India and evidenced by the 'silks' on show. As a woman it was difficult not to covet the beautiful Sari of a delegate as you were absorbed in conversation at the conference or observing from the audience. The Faculty dinner brought out some of the most vibrant shimmering silks. At the conference itself, unlike those closer to home, where the exhibition hall would be filled with pharmaceutical displays and novel coffin displays or the like, the silk merchants sold their best. It was akin to a 'feeding frenzy' at each break with women delegates including myself eager to bring home a beautiful piece – a wonderful memory and souvenir.!
The program was of an excellent quality thanks to efforts of the international lead of the Scientific Committee, Odette Spruyt, and drew an audience from 17 Countries and every State of India. The science, the art, the research evidence and methodology and quality improvement approaches to care were addressed by leaders in their field, including inspiring Indian and regional speakers and some Internationals including Keri Thomas, Karl Lorenz, Stephen Connor, Mhoira Lang and our own Janet Hardy.
One of the standout sessions was " Hidden Lives Hidden Patients' which provided insights into the plight of those with persistent chronic mental disorders, the transgender patient, the refugee at end of life, those who are homeless and those effected by natural disasters such as in the Nepal earthquake. This was a very 'rich' moving session and cause for much self-reflection.
There were insights into palliative care developments occurring across India with a session that laid out state by state service delivery coverage, highlighting some of the progress but overall the glaring inequities of service access across India.
The session regarding palliative care in degenerating neurological conditions drew a large audience. A neurologist's perspective was given by Dr Suvarna Alladi and Palliative Care perspective by myself, where I concentrated largely on the difficult problem of sialorrhoea in motor neurone disease, where there is a dearth of evidence as to the optimal management.
The psychological dimensions of neurodegenerative diseases, and practical nursing issues were covered well by Dr Anuja Panicker and Ms. Shakila Murali respectively. The sessions came alive with the Q and A session when a particularly probing question came from a respiratory physician from Bombay, struggling with the end of life care of one of her patient's with MND. In the context of the law in India, withdrawing life -sustaining treatments remains very difficult if families feel duty bound to continue treatments.
Reflecting on a recent clinical case of my own, provided an insight for the physician and the audience as to how this might be managed.
I subsequently received an email from the physician regarding her difficult case. "I thoroughly enjoyed your talk and gained immensely listening to you. I wanted to also inform you that my patient of MND passed away on a midazolam drip. I greatly appreciate your help"
Reflecting on such feedback validates our contribution in supporting improved knowledge and hence cares of such vulnerable patients and families everywhere.
The fellowship extended throughout the conference, with copious amounts of delicious food, great music and the warmth of engagement extended to all ensures that many of us will return again to this enriching Palliative Care Conference.
Carol Douglas