Collaboration, Community & The Cachar Cancer Centre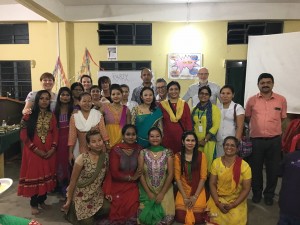 In November of last year I had the privilege of returning to Silchar and visit our friends at the Cachar Cancer Hospital and Research Centre. The team from the previous year (David Brumley, Joan Ryan, Niamh O'Connor and I) were joined by the fabulous Liese Groot-Alberts, a New Zealand based grief therapist and lecturer. We were warmly welcomed by Dr Iqbal Bahar (Palliative Care Physician), Dr Ravi Kannan (Hospital Director) and his wife Seetha, Sarita (Head Nurse) and many familiar faces from our previous visit. Last year the hospital had suffered severe storm damage and it had taken some time to recover, therefore they were extremely grateful for the very generous donation from APLI members.
The focus of this years visit was the development of a community program or "home hospice". This provoked many discussions as there is already a well established community nursing service. We all attended several home visits involving bone shaking journeys in the ambulance. A trek across a paddy field was something of a first for me although the nurses didn't seem too phased. Once we arrived at the two roomed home, we were met by beaming faces and a grateful bedbound lady. While there was some discussion over the cause of her paralysis, there was no doubt that the large pressure sore on her hip required ongoing nursing intervention. Her only respite from the four walls with two tiny windows was the monthly trip to the hospital for catheter replacement. This to me epitomised a community/home hospice service.
Spending more time with nursing staff strengthened our relationship. They were hungry for information to improve their practice and patient care. A recurrent issue is the lack of documentation. Whilst substantial improvements have been made since previous visits, the opportunity to discuss further improvement presented itself. The nurses were assessing patients and adapting care individually, however this was not being documented. Verbal handover and memory was heavily relied upon.  After discussions with Sarita a tool for oral assessment was trialed. (As many patients receive treatment for head and neck cancer, mucositis is prevalent). After a couple of lively teaching sessions where the nurses assessed each other using the tool, we took them to the bedside. The nurses found it a great experience and the patients really enjoyed being part of the learning exercise. The nurses appreciated the benefit of using a tool to improve patient care and team communication. Limited internet and printing facilities are ongoing issues that could impede the sustainability of this change. Laminated copies of the various assessment tools have been sent and discussions are underway to continue ongoing education.
One noticeable difference this visit was fewer public awareness sessions and outside talks. Although this time I was fortunate enough to teach 75 nursing students at the nearby medical school about palliative care. This marked progress for the Cancer Centre whose previous approaches to the Medical School have been denied. It was far from plain sailing with a complete technology failure. Also, the students were very shy and took some coaxing, but eventually they started to interact. At the end of the session there were the obligatory selfies, but this time with an autograph! The Nursing Professor was grateful and talked about arranging future sessions and clinical placements with the hospital.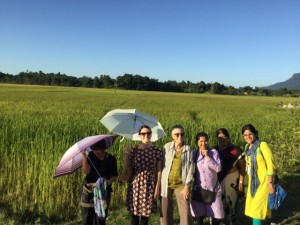 Liese's focus in this visit was on the psycho-social and spiritual aspects of care in the hospital as well as in the community. She worked together with Ms Keshav Sharma, a psycho-oncologist in charge of the Department of Preventive Oncology. Keshav links with the hospital social workers, whose task- amongst many others- is to fill in the admission forms and make quality of life assessments with patients.
Keshav has a huge workload, conducts trainings for staff in communication skills as well as providing case study teaching with the focus on reflective practice. She also teaches counselling skills to the social workers.
And the whole team teaches cancer awareness and tobacco awareness in the community.
She has been a tremendous asset in the workshops conducted by Liese, not only translating, but actively adding her knowledge and insights, making sure that the content of the workshops is firmly anchored in local culture and works with what is realistically possible in the local setting. A great collaboration. There are plans to collaborate more fully and design further trainings together, should another visit be possible for Liese.
Corruption is common in India and during this trip we became innocent bystanders to the Prime Ministers attempts to eradicate the "black money market".  In his endeavours to rid the country of undeclared funds and recoup some taxes, Nareendra Modi introduced the demonetisation of 500 and 1000 rupee notes, the announcement coming at 7pm and effective from midnight. (This news didn't make the front pages anywhere else as it happened on the night of the US election).  We were leaving the next day and had all exchanged money prior to leaving home and of course our only denominations were 500 and 1000 notes. Ravi came to the rescue, very kindly exchanging some rupees each so we could buy some sustenance at the airport. The ATMs and banks were closed during the initial days of the crisis, meaning that we could only pay using credit cards, curtailing our post visit shopping.
As with the previous visit I came away enriched and humbled. We had learnt much from them and hoped they benefitted from our insights. The Cachar Cancer Hospital and Research Centre continues to provide such an invaluable service in an area of great need, and it is real privilege to be able to share our experience to help them.
Lisa King