Project Hamrahi in Ambala, Haryana February 2017
It was a dark and stormy night. It wasn't really, it was a dark and foggy morning and we were at the wrong gate of New Delhi railway station. The gate also happened to be locked although this proved to be only a minor inconvenience as our porters scrambled down on to the tracks with our suitcases on their heads as we scurried along behind them. We were back in India and on our way to Ambala.
Ambala, is a city in the state of Haryana about three hours by train to the north of Delhi tucked in beside Punjab to which Haryana was once joined and with which it shares a capital Chandigarh – a planned city with a lake; a bit like Canberra with mango trees. We had visited Ambala the previous year when we spent just 8 hours there; a stopover en route to Jalandhar and Amritsar, having been there to visit the Ambala Rotary Cancer and General Hospital.
The story of Ambala Rotary Cancer and General Hospital is an interesting, possibly remarkable, one. Ambala Rotary Club, instead of donating a park bench to the city council, with the help of a local benefactor decided to build a cancer hospital. They have since gone on and, among other things, established a palliative care Home Care team with a nurse, a nursing assistant, a driver and, sometimes, a medical officer serving the needs of the more disadvantaged members of the community without charge.
Our contact in Ambala is Rotarian Mr Subhash Bhansal, a retired businessman who is the driving force behind the developing palliative care service. He does not work alone, however, and is supported by a group of Rotarians who are both organised and committed; the absence of a trained health professional does not appear to have been an impediment although they have been mentored and supported at a distance by the redoubtable Dr Savita Butola.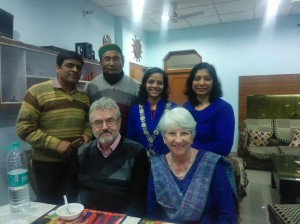 This time we were back for a week to spend time with the Home Care team and give a series of talks raising awareness of palliative care in and around Ambala. Our programme was full and mixed and had been advertised in the local newspaper so that everywhere we went patients came for consultations. It was a little odd to have patients and their families sit in on our presentations and then queue to be seen by the Australian doctor.
30/1/2017: Arrived in Ambala. Seminar at Nanyola village.
31/1/2017: Visits with Home Care Team. Tutorial with medical and nursing staff at Rotary Hospital.
1/2/2017: Lecture to nursing students at Philadelphia Hospital, Ambala City. Patient consultations.
2/2/2017: Lecture to nursing students Mahabir University. Patient consultations.
3/2/2017: Visits with Home Care Team. Presentation to Ambala Rotary Club.
4/2/2017: Lecture to University students at Sanatan Dharma Lahore College. Patient consultations.
5/2/2017: Visits with Home Care Team. Return to Delhi.
In our two previous visits to India we had struggled with the language as we endeavoured to talk to patients or teach. The Rotarians of Ambala fixed that. They provided us with two "translators". Delightful young men, non-medical university students, with excellent English, who accompanied us everywhere and… translated. It was a bit of a struggle at first but as we got to know each other we developed a good rapport. They were also able politely to keep us culturally appropriate. It is difficult to overstate the helpfulness of these young people.
Our translators were, however, only one facet of the excellent organisation we enjoyed. Every morning we were collected from our hotel and taken to where we needed to be, driven around and taken back to our hotel at the end of the day. Every evening we were entertained by Rotarians, either in their homes or once in a restaurant in Chandigarh. The hospitality was warm and generous and we valued the opportunity to connect with these new friends who support palliative care in Ambala.
The home care team while small is certainly hard working. Attending to wound dressings is a large part of their work and we were able to work with the team to demonstrate an alternative non-stick dressing using petroleum jelly (Vaseline) to replace the Betadine soaked dressings previously used. This is an inexpensive dressing and petroleum jelly is readily available. Services offered by the home care team are limited by the lack of training in palliative care and support from other health professionals, particularly medical support. Access to medical advice seems to be limited and inconsistent, at least during the period of our visit.
Shortly after returning home we prepared a formal report for the Palliative Care Committee in Ambala which made a number recommendations based on the Indian Standards for Palliative Care and which we believe are achievable given the Team's current circumstances. At a meeting on 10/3/2017, the Committee resolved to address the following:
Establish a system of clinical documentation which was lacking.
The Home Care team does not have access to a medical officer on a daily basis. The Committee has identified an interested doctor in the hospital who will be available to the home care team on a daily basis.
A nurse from the home care team and a doctor from the hospital (the interested doctor) will enrol in the IAPC Certificate Course in Essentials of Palliative Care. The next course starts in June 2017.
The intention is that the doctor will proceed with whatever they have to do to be able to prescribe morphine or other opioids.
We have developed a soft spot for Ambala and the people we met there for their warmth and enthusiasm and look forward to returning in February or March next year (2018).
David and Jane MacKintosh