Agartala Leadership Workshop, Feb2015
Agartala Leadership Workshop
Author : David MacKintosh
In November 2014, for Chris and Wendy, it was to be their third and second support visits respectively, to the Regional Cancer Centre in Agartala, North East India. For Jane and David, it started out as an inaugural Hamrahi experience of spending a teaching weekend in Patna, Bihar, with Odette. By December 2014,  it had turned into a 10 day introductory palliative care workshop for 40 participants organised for the Regional Cancer Centre and Tripura State Government by a combination of faculty from Pallium India and APLI. The participants were to form 10 community teams consisting of a doctor, a nurse, a social worker and a pharmacist destined to eventually provide home care across the state of Tripura, part of the vision of Dr Gautam Majumdar, Medical Director at the Regional Cancer Centre in Agartala.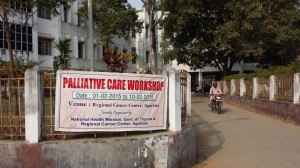 The programme had been jointly crafted by Dr Chris Drummond (APLI) and Dr Sreedevi Warrier (Pallium India). Dr Sreedevi and  Nurse Jayakrishnan Kalarickal (JK) from Trivandrum, Kerala  were present for the duration of the workshop but were supplemented by Dr Biju Raghavan and Prof Rajagopal who both made excellent guest appearances; actually, calling Dr Raghavan a guest appearance is a little unfair as he spent two full days teaching communication skills which was one of the highlights of the workshop. The remainder of the programme was taught jointly by APLI and Pallium faculty – Chris, David, Jane, JK, Sreedevi and Wendy.
It was a busy 10 days, run consecutively, without a break, and required considerable perseverance from the participants, particularly given the language differences. One benefit of the 10 day format, however, was the opportunity to develop a sense of community, evidenced by increasing ease of conversation and discussion as the workshop progressed. It was difficult to judge how much the participants benefitted from their experience although it was clear that they had acquired a firm understanding of the principles of patient-centred care and the team approach to care; probably two of the difficult concepts of palliative care not readily extracted from a textbook.
Although this workshop was a divergence from the Hamrahi mentorship model, as a collaborative venture it had much to recommend it and while there were certainly lessons to be learned and improvements to be made it could be the basis of further developments in APLI's relationship with India.
For Chris and Wendy this workshop was an opportunity to catch up with friends and acquaintances and review their relationship with India. For David and Jane this was their first encounter with India, its chaos and its wonderful people.
.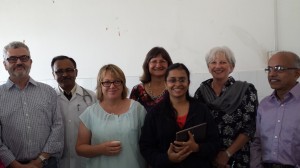 Dr David MacKintosh, Dr Gautam Majumdar, Wendy Salmon, Dr Chris Drummond, Dr Sreedevi Warrier, Jane MacKintosh, Prof M.R. Rajagopal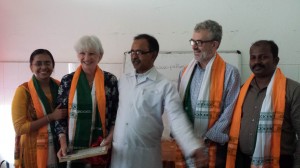 Sreedevi, Jane, David and JK receiving gifts at the end of the workshop.