Project Hamrahi – Patna, Bihar March 2012
March 2012
Participants:
IGIMS, Patna
Dr Rajesh Singh, Oncologist & Palliative Care, IGIMS, Patna
Dr Vinod Verma, Anaesthetist & Palliative Care, IGIMS, Patna
Ms Sujita, ICU nurse & Palliative Care, IGIMS, Patna
Australasian Palliative Care International
Dr Odette Spruyt, Director, Pain and Palliative Care, PeterMac Cancer Centre, Melbourne
Ms Anne Adams, Project Manager, PeterMac Cancer Centre, Melbourne
Ms Sarah Rose, Palliative Care Nurse, Alfred Hospital, Melbourne
Pallium India
Professor Rajagopal, Chairman, Pallium India, Trivandrum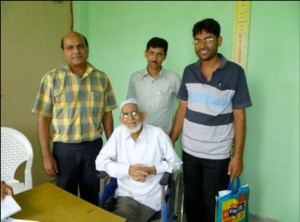 Summary
This second visit coincided with the 100 year Bihari celebrations in which the state was commemorating its centenary. The city of Patna was highly decorated with blue lights and there was a 3 day carnival in the city's centre.
Our timetable was less structured than during the first visit. We attended oncology outpatient clinics and oncology ward rounds as before. The ward rounds were with Dr Pritanjali and her colleague, Dr Richa. We saw many patients with advanced c ancer, of all ages, in the same ward, attended by their family members. The condition of the hospital wards had not noticeably improved since last visit. However, in the outpatient areas, there was a well set up chemotherapy day ward.
The chemotherapy OPD was as busy as ever. We were told that over 3000 oncology patients are seen in OPD every month.
There was a CME organised by Dr Rajesh on the Saturday of our stay. This special event brought Indian palliative care leaders to Patna to teach and share their insights with the team from Patna. We were pleased to be able to participate in this event.
A particular concern on this visit was the continued failure to achieve an uninterrupted supply of oral morphine, one of the key standards of the Indian Palliative Care quality improvement standards. IGIMS is only government hospital in Patna with a licence to provide morphine and yet is unable to maintain its supplies due to many factors. A key factor is the lack of support of the Director of IGIMS in ensuring this is maintained. Without his action and support, the process stalls. Additionally, Bihar has not simplified its narcotic rules, in line with the Federal urgings to do so and the action of over 14 other states in India. Unduly complex regulations translate to unbearable suffering for patients and disempowerment of staff. We felt this was an urgent issue on this visit and attempted to advocate to the Chief Minister, Chief Health Minister, Principal Secretary and Principle Health Secretary during our week. We were pleased to have a brief meeting with the Principal Health Secretary with whom we are maintaining contact.