First visit to Fiji – November, 2015
Fiji Islands
The team at the Colonial War Memorial Hospital welcomed me to visit them in November to meet and talk together about their efforts to develop palliative care in Fiji. Dr Fong, obstretician gynaecologist and Chairperson of the National Oncology Clinical Service Network, is highly motivated to develop palliative care as part of his focus on ensuring primary care and health-promoting cancer care networks are in place across Fiji. The Ministry of Health is developing a new Fijian Cancer Action Plan and have palliative care within its sights as an integral part of this, but are looking for international support to determine best practice suited to the Fijian setting. Clearly, training needs are high on the agenda.
It was great to meet the team of hospital and community based nurses who are passionate about improving palliative care services.
We plan to continue our discussions in 2016 and collaborate on education initiatives, hopefully with the support of other international agencies already working with the Fijian MOH, universities and hospitals there.
– Odette Spruyt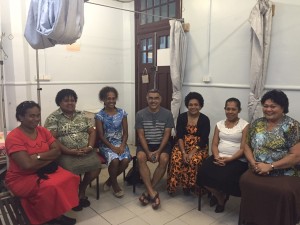 Dr Fong, team members from CWH and community nurses, Suva, Fiji