Indian Association Palliative Care 2016: Brief Conference notes
A key theme running through many plenaries of the 23rd IAPCON was that palliative care is at the forefront of a change in medical practice and a model of multidisciplinary, patient and family centred care. This is sobering for those of us who work in the field and are aware of our shortcomings. Nevertheless, we have articulated our patient-centred, holistic care aspirations and set about living up to those aspirations, which puts us ahead of much of current health care practice.
In keeping with this theme was the focus on the increasing integration of palliative care into medical care systems with an excellent example of this coming from the collaboration between the surgical and palliative care departments of AIIMS, Delhi. Surgical trainees are given opportunities to do training in palliative care in recognition of the importance of palliative clinical decision making in surgical practice.
Dr Mhoira Leng urged us to recognise that palliative care is the need of the hour across the world, and especially in Lower and Middle Income countries where the burden of suffering is often hidden and ignored. The program included a session dedicated to discussing the WHA 2014 resolution which placed palliative care squarely within health planning and policy at the international level. Again and again, we were reminded of the gross mismatch between resources and need, the 82:20 Pareto rule in action -80% of the health care resource consumed by 20% of population. We were urged to do our part to address this, to work with governments and remind them of the WHA resolution and ask what action they have taken or are planning to take, toward achieving this.
There were inspirational stories to motivate and encourage us. Bangladesh has achieved an MD course in palliative care and is working closely with government to produce a national policy for palliative care. The MD course in India is now offered in two institutions, Tata Memorial, Mumbai, and AIIMS, New Delhi, with Tata's students now residents and looking at research opportunities. Nepal is working on their national strategy and making great progress. A national end of life care collaboration has been established. Specialists from diverse areas of medical practice are beginning to take notice of palliative care and were participants in the conference. Research is definitely on the agenda in India with a preconference workshop held along the lines of the Accord research meetings, providing fantastic mentorship and discussion for participants. E-learning featured large with Cardiff university launching their e-learning module for India, following on the footsteps of e-learning for Africa. This work was auspiced by e-cancer and Karunashraya Hospice, Bangalore, which was also a key sponsor of the conference.
Congratulations to all members of the IAPCON2016 scientific and organising committee for their hard work and dedication to get the program across the line, no easy task in the midst of all the usual demands of work and life. It was an outstanding achievement for all concerned.
Come to Coimbatore 2017 for a conference not to be missed.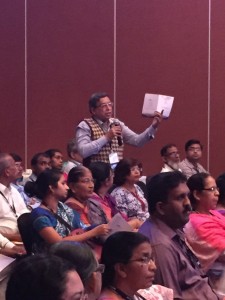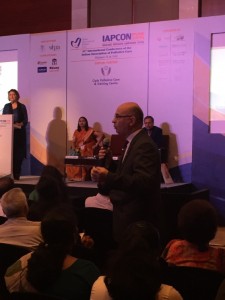 Conference dialogue- Dr Max Watson responds to comments from the audience