National Strategy for Palliative Care in Nepal
– Dr Dan Munday & Dr Ruth Powys Nepal, March 2016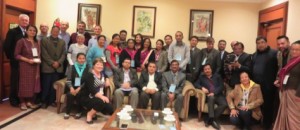 In Nepal over 112,000 people each year will be in need of palliative care.  An appropriate national strategy is an important step towards enabling palliative care to reach those in need. In recent weeks very significant progress has been made toward developing such a strategy.
In February 2016, the Nepalese Association of Palliative Care (NAPCare) was joined by Two Worlds Cancer Collaborative Canada (who have supported palliative care development in Nepal over many years), the Ministry of Health and Population, the WHO, International Nepal Fellowship (INF), and other stakeholders for an important 3-day Forum where 30 invited participants worked to develop a National Strategy for Palliative Care for Nepal.
Representatives from INF included Dr Dan Munday, Palliative Care Consultant, UK, living in Kathmandu, advisor to NAPCare and Dr Ruth Powys (Russell), Palliative Care Specialist from Australia, living in Pokhara, Western Nepal.  Ruth and Dan presented key input from a current INF/NAPCare survey demonstrating how palliative care is continuing to expand in government, NGO and private institutions and how many hundreds of healthcare professionals have received basic palliative care training.
A palliative care strategy will need to include all settings from rural districts to the national level, with appropriate service provision, training, resource provision, quality standards and research. Specialist palliative care at the secondary and tertiary care levels needs to be developed, as well as palliative care delivered by generalists, including GPs and mid-level health workers.
WHO is committed to enabling member states to develop palliative care appropriate to their national context, integrating it into their health services. The Declaration on Palliative Care at the 67th World Health Assembly in 2014 to which Nepal is a signatory, has committed WHO and the government of Nepal to be partners in this important process. NAPCare has committed to work with government and WHO to produce an agreed national strategy to be launched August 2016.