A wealth of experience at IAPCON Coimbatore 2017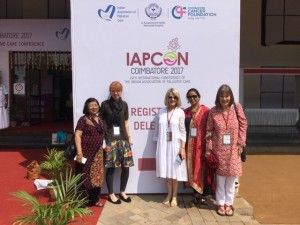 Dr T. Balaji, the Organising Secretary for the IAPCON 2017 together with the varied Conference Scientific Committees and the Local and Supporting Committees arranged and warmly hosted a stimulating and highly enriching 24th International Palliative Care Conference in Coimbatore in February. With 1,000 registrants this year the pre-conference and conference days provided ample opportunities for engaging with others, sharing ideas and illuminating discussions and making valuable global links. The IAPCON Coimbatore 2017 Conference aim to 'Add Value' to advancing and promoting awareness, learning, right decisions and care to the end in regards to the understanding of palliative care and end of life issues and concerns was most certainly achieved.
The combination of quality, highly relevant research and clinical practice papers and presentations demonstrated the significant work and application of resourcefulness many dedicated people are already doing on all continents across the world in the palliative care and end-of-life-care field.  The move towards continuing to enhance community based services and practices which actively engage families was strongly emphasised throughout the conference. This was highlighted in the words of one presenter, 'We are good at giving care to a few but we need to innovate to reach increasing numbers." Dr Karl Lorenz (USA) spoke of "stories as being the most powerful tool to make change." Thus, quality measures and audits supported with stories validate and give power to navigate obtaining vital resources. This led me to thinking how stories of palliative care and end-of-life care are abundant in all communities, villages and populations around the world and how it would be advantageous to make greater use of patients', families' and professionals' stories. The wisdom poignantly conveyed in the short You Tube clip titled 'Last Words' released by IAPC in 2016 and the stories of people from across cultures suffering with unrelieved pain shown in the film 'Life Before Death' both aptly illustrate the ability telling and sharing stories has to educate.
Psychosocial issues were well addressed in this conference. Of particular interest to me were the presentations delivered in the segment titled, 'Hidden Lives Hidden Populations'. Dr Savita Duomai's (New Delhi) presentation, 'Caring for Transgenders with HIV' deeply moved the audience. Similarly, Dr Brett Sutton's plenary address regarding Palliative Care and Humanitarian Aid highlighted the enormity of challenges faced bringing international palliative care guidelines to the humanitarian response.
A standout message expressed by many of the presenters is to address demands presented by the global ageing population – those living with escalating levels of frailty and dementia. An innovative and creative challenge was offered by Mr Shyam Viswanathan, a technology expert when he asked us the question, "Do we see a future with a virtual hospice?" He stated this is more possible now and it is imperative we include technology into palliative care services – high tech, high touch!
There are numerous and unique tests we as a global community have thrust upon us in this era. We each need to speak out, tell our stories, and extend our minds and hands across cultures and borders to enable a greater awareness about end-of-life care and inclusion of palliative care principles for the better well-being of all humanity. Come and join us at the IAPCON New Delhi 2018.
Karen Anderson
ECU Lecturer, Counselling and Psychotherapy
Perth, Western Australia